My organization's approach to delivering person-centered care is to celebrate the life story of every individual we serve. Whether it's a guest, resident or family member we believe their life stories represent a rich tapestry that helps us identify and serve their individual wants and needs. Locus of control requires us to learn and then act on their life story details. This enables us to not only treat the individual as we would like to be treated- but as they would like to be treated. So we celebrate life stories, and we share our own.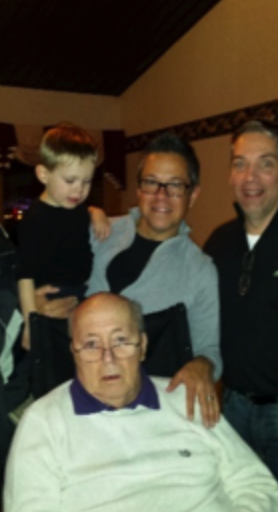 I came to the post-acute space from a different perspective initially- the receiving end. My son Cray had just been born. Happy, healthy- mom too. My 73 year old parents stayed with us for 3 months leading up to that joyous day to help with a complicated pregnancy. I have pictures of my dad holding Cray the day he was born. When things get a little rough I pull them out because they remind me how I felt when everything was good. It was as if the hand of God had reached down, tapped me on the shoulder and whispered in my ear "I'm real and I love you and this is what it's all about."
Several weeks later and before flying my folks back to Chicago, I had Dad checked by a cardiologist. He was short of breath and had gained some weight so I just wanted to get him checked out. We discovered a 98% blockage of his left anterior descending coronary artery. After a quadruple bypass, severe infection that traveled to his brain and 30 days in CICU, a case manager walked into my dad's room and said "well, we've done everything we can, I need your 3 SNF choices." Those words chill me to my spine still today because I love my dad. This man is Superman and I nearly lost him twice at the highest level of care. Now I'm being told I have to choose between three places called SNF's? I was riddled with anxiety. I was scared. And like most when I get anxious and scared I get a little bit angry.
I think many of the folks we serve feel the same way when they come to us. They don't wake up in the morning and say "Hey Honey, just for kicks I think I'm going to check us into Palm Garden this afternoon. We'll stay the weekend, get a little French toast, and maybe order a movie." No, we are receiving them at their weakest moment. Like me, they are scared, anxious and sometimes angry. And because of the way our health care system works- they usually come to us on the same days and around the same times. I still remember the day we transitioned. I would have told the ambulance to turn around and take dad back if the rehab center asked for his name. Think about it- we were leaving an environment full of physicians and state of the art telemetry. Asking transport for my dad's name when we arrive wouldn't inspire confidence.
So at Palm Garden we learn life story details in the acute setting. "Mr. Neumann is a long suffering Cubs fan- born in Chicago, he's a retired brick-layer and has 4 kids (1 local), loves music and his wife Bonnie," and communicate them back to our receiving team members.
When we welcome guests to our center we greet them by name, at eye level and accompany them to their suite. "Welcome Mr. Neumann, we've been expecting you. This must be your wife Bonnie."
We build on those life story details and empower team members to act on them. We've found this helps us elevate the human spirit and has allowed us to remove the word "no" almost entirely from our organization's vocabulary.
And if you think this is all common sense. You are missing the point. What we do is very difficult and it's easy to make the "person" in person centered care an afterthought. Caring for the weakest among us is God's work. But amidst all of the chaos of the Affordable Care Act and our changing reimbursement landscape it's easy to lose the "person" in person centered care.
Fortune 500 companies like Google and Amazon spend billions to learn our individual wants and desires so they know better how to sell us things. We have those details right in front of us every day in the life stories of our guests, residents, and family members. They tell us how they want and need to be treated and all we have to do is ask.
We celebrate the life stories of those entrusted to our care and we invite you to do the same. After all, isn't that what you would want for your Dad?
Luke Neumann is Senior Director of Service and Relationship Development for Palm Garden